Are you thinking of renovating, making landscaping changes to your front or backyard, or starting a new building project altogether? With a diverse choice of building supplies and materials,
Lumber Guys
can take care of all your construction needs. We work hard to service and supply renovation and construction projects.
Whether you are a Toronto contractor, professional builder or an applicator, we will provide the highest quality building supplies for everyone. This applies in the same way to residential, commercial or industrial constructions in the G.T.A. On every job, the best builder's materials and tools are used, unique and appropriate to the scale and complexity of the project. We specialize in an extensive range of supplies and materials.
Building & Drywall Supplies
Whether you're a contractor involved in a new construction in the Toronto area or a weekend handyman working on your own home renovation project, The Lumber Guys is your trusted source for all kinds of building and constructions supplies.


Core products include:
Drywall – the best material for covering your interior walls, we provide a variety of types of drywall including fire rated and moisture resistant. Sheets come in a variety of sizes in order to ensure that we can provide the product that is right for your project.
Insulation – homes without the proper insulation can be too cold in winter and too hot during the summer. And homeowners without the proper type and amount of insulation installed in their homes frequently spend far more than is necessary on energy costs. To ensure that your home is as energy efficient as it can be, consult with us about the type of insulation you should be using. Quick tip: have your Toronto licensed electrician to install electrical wiring before installing insulation.
Lumber – We wouldn't be "The Lumber Guys" if we didn't offer an assortment of high quality lumber. We specialize in spruce and cedar as well a regular and pressure treated plywoods. Not sure which type of wood is best for your product? We have experts on hand who would be happy to advise you.
Nails and screws – Using the right nails and screws for your drywall and/or lumber is an essential part of the construction and renovation process that many homeowners overlook. Instead of many a separate trip to another hardware store, we provide all sizes of screws and nails as well as galvanized, coil, strip, loose, finishing framing, drywall and deck.
Steel studs – for framing to support your drywall, we supply a variety of steel studs and tracks.
Why Choose Us



 VARIOUS BUILDING SUPPLIES
We offer various accessories and additional building supplies at your request. In addition, Lumber Guys provide the materials to carry out different hardscaping and landscaping developments, such as walkways, driveways, steps, slabs, curbs and more.  The vast assortment of building supplies is available at the best price and quality. Visit us at our Toronto showroom, to get a more detailed look, at your convenience.



 OUTSTANDING QUALITY AND SERVICE
Our team prides itself with outstanding quality and service, and is knowledgeable in all aspects of the construction, building and contracting industries. This includes development and exporting, as well.



 WE PAY GREAT ATTENTION TO DETAILS
Every customer is guaranteed fast, reliable service and we encourage you to contact us if you seek professional advice. We pay great attention to detail and are the most qualified building suppliers in Toronto.
Efficient Delivery
With Lumber Guys, you don't have to be concerned about moving the building supplies either. We provide curbside delivery and carry in all the materials directly to the site. We value our client's satisfaction and make sure that all deliveries are prompt and stress free. Our delivery trucks are constantly in movement, getting your supplies to you in the most convenient manner.
We offer our service not only in Toronto, but in all of the Greater Toronto Area, including North York, Markham, Mississauga, Oakville, Vaughan, Scarborough, Woodbridge, Maple, Concord, Thornhill, Aurora, and New Market.
The Lumber Guys is your source for lumber and supplies in the Toronto area. We carry all the supplies you might need for building everything from a house for a dog, to a house for your family. Whether your project is large or small, we have the material necessary to help bring it to life.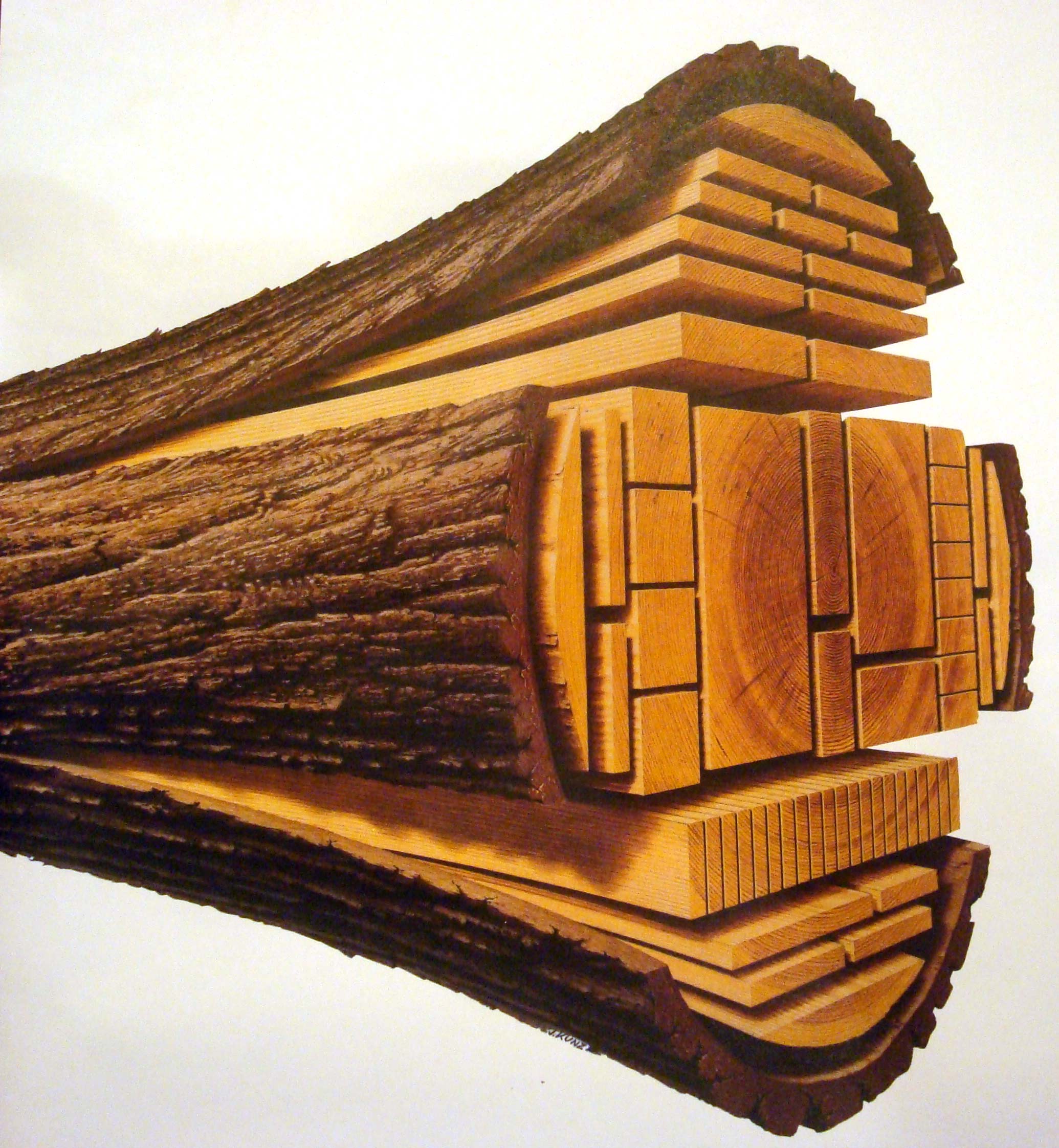 There are many different sorts of lumber that can be used in your home; special pressure treated varieties are good for exterior projects and products with a nice, smooth finished are primarily used indoors. At The Lumber Guys we specialize in cedar and spruce as well as regular and pressure treated plywood. They are briefly outlined below.
Cedar – Ideal for closets, bathrooms, saunas and patios. This wood has an excellent aroma and will effectively repel insects.
Spruce – The grain in spruce is extremely straight and it is commonly used in outdoor projects. Also has a wonderful smell.
Plywood – a strong and rigid materials that can be used for a whole host of projects.
Pressure Treated Plywood – has the same properties as traditional plywood but has been chemically treated to resist moisture, fungi and insects. This material is ideal for outdoor projects such as picnic tables.



What type of wood is best for your project?
If you've read the above descriptions and are still unsure of what type of lumber would be best for your particular project, the experts from The Lumber Guys would be pleased to help. Just give us a few of the details of your project, and we can recommend not only the type of lumber, but an appropriate size and thickness as well.



Why The Lumber Guys?
There are many lumberyards in and around the Toronto area and we understand that when it comes to purchasing your lumber supplies, you have choices. That's why we work hard to earn your business.


When you choose The Lumber Guys, you'll be getting:
A quality product – no matter what type of lumber you choose you can be assured that it will always be top quality.
Superior customer service – we don't just sell you lumber and send you on your way. Our experts are on hand and happy to provide you with any advice you may need about your project.
Large volume – the last thing you want is to visit a lumber supplier only to discover that they don't have enough material to cover your project. That's why The Lumber Guys always keeps an abundant stock of our core products.
Quick delivery – not everyone wants to or has an appropriate vehicle for hauling their own lumber. Our fast and efficient delivery service ensures that you get the materials you need on time so you can get to your project.
At The Lumber Guys, we offer a variety of different services that include: consulting, delivery and installation, which may be the way to go if you are not able or do not wish to do the work yourself.
Also we offer more than just lumber supplies; you can find drywall, hardware and other materials here for your construction needs in the Toronto area.
9 Tips for Green Building
If you are involved in a home projection, whether it is new construction or renovation, you have undoubtedly been considering sustainable products. When the right "green" building supplies are chosen, the project will pay for itself in time. A green home will not only provide you with energy-efficiency, it will also have a higher resale value than a home without sustainable materials.
Basement Renovation Tips for Homeowners
There are a number of things you can do to your basement during a renovation project. You can convert it into an entertainment area, make energy-efficient upgrades, clean it up, maximize the space, or any combination of these. No matter what you have planned for your basement, it's essential that you invest in durable, quality building supplies and materials.
Benefits of Cedar Wood for Construction
Cedar wood is a popular building supply for homeowners and businesses in Toronto. It's a beautiful material that looks great on the inside and out, with its dense, yet lightweight qualities. Since Cedar trees grow in environments where weather is damp and microorganisms, fungus and insects are rampant, they have developed self-protective qualities. Such qualities make Cedar useful as a home building material – particularly in areas where temperature, humidity and cracking are a problem.
Residential Building Design Trends in 2016
While building designs don't change as frequently as fashion trends, they do evolve and change on occasion. Architects and interior designers do take note of these changes. Sometimes factors like the environment, demographics, and economy all trigger shifts in the construction methods and building supplies used in both commercial buildings and homes.
Factors to Consider When Investing in Renovation or Construction
When investing in building supplies, nobody wants to spend a fortune. Even if you have a large budget, you will want to save as much money as possible. It doesn't matter if you're renovating your home, building a small shed or working on a large construction project, you will want to work with a reliable supplier who can provide you with a good deal on quality building products and supplies.
Installing Insulation for Ceilings and Attics
Proper insulation for your ceiling or attic is one of the most important things you can do as a homeowner. Attic/ceiling insulation should be at the top of your priority list when buying building supplies. Good insulation ensures proper heating during the winter and cooling during the summer. Sufficient insulation improves comfort for everyone in the home by keeping ceiling temperatures close to room temperatures and enabling an even temperature distribution throughout the entire house.
Laminate Flooring Cleaning and Maintenance Guide
If you have laminate flooring or plan on investing in it, you will find that it is relatively easy to care for. It's a popular choice of a building supply for home construction and remodeling.
Why laminate flooring? It has a lot to offer: both bold and subtle color variations, authentic texture, distinctive grain, etc. It manages to capture the beauty of natural wood, stone, or even ceramic, and it's available for only a fraction of the price.
Common Myths About Building "Green"
These days, everybody wants to "build green". There are "green" products being offered in masse for both the interior and exterior of a building. If you are planning to build or remodel a home, office, or any other type of structure, you will be faced with a variety of sustainable and environmentally-friendly options. Unfortunately, there are many misconceptions about so-called "green building supplies" and other products.
Solid or Engineered Hardwood: Which is Right for Your Project?
Solid hardwood and engineered hardwood are both popular types of materials used in construction. When shopping for building supplies, whether for your home renovation project, office building construction, storage building, etc., wood is a common material for both interior and exterior purposes.
Vinyl Flooring Buying Guide for Homeowners
If you've decided to invest in new flooring for your home, vinyl is always a popular choice of material. Vinyl is known as a "great impostor", as it can be made to look like other building supplies, like tile and wood. It's inexpensive, and very durable for its low cost.
Client Testimonials
The Lumber Guys delivers on time every time. I've never had a crew sitting around waiting on an order from them. Whether I order building materials or engineered wood products, my order always arrives when they say it will. They really deliver on their promises and that's why I've been their customer for over 4 years.
Rod from Reno Pros
I depend on the Lumber Guys to deliver most of my building material, including engineered wood and truss systems, directly to my jobsite. Over the years, I've never had any problems with any of their services. The really work hard to make sure that I have everything I need to get the job done on time.
Sam fro Albo Reno Ltd.
Brands We Work With